Vick



Name

Vick

Korean

빅

Status:

Deceased

Occupation:

Assassin

Organization:

Portrayed by

Choi Seung-hyun

Debut

Death
Vick is an assassin for IRIS, a secret organization hidden in the United States. He is a cold-blooded killer with a 100% kill rate. He has been assigned to kill Kim Hyun Joon.
 Vick was shot dead by Kim Hyun Joon in episode 19. Vick was portrayed by
Choi Seung-hyun
, also known as T.O.P. of Big Bang. He sang an OST for the series, "Tell Me Goodbye".
Throughout the entire series, Vick has been portrayed to be a top class assassin, never failing to finish off his target. He first appearance was in episode 2, where he was called up by "Mr Black" of IRIS, informing him of a new target.
Vick was also assigned to kill Kim Hyun Joon and later murdered Yuki and her family while tracking him down. 
Vick escaped after assasinating someone but Hyun-joon chased him to get revenge for Yuki and Mi-jung's deaths.
He came home, changed his hairstyle, and drank red wine. Hyun-jun sneaks in pointing a gun at Vick. Vick smirks at him and is punched by Hyun-jun who is angry that he took Yuki's life. Hyun-jun began to beat Vick and shot him in an attempt to force him to tell where Baek San and Jin Sa-woo's were located.Sunhwa came and told Hyun-jun to stop as Vick stood up saying his final words, "
The one that will end my life is not god nor you. The one will end my life is only me."
Hyun-jun gave him one last punch. As Sunhwa and Hyun-jun contacts NSS, Vick grabbed his gun, attempting to shoot Hyun-jun but Sunhwa warned him causing Hyun-jun to react quickly and shoot Vick instead.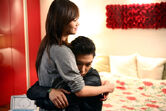 He saved her from Two American men in a club and later showing up another time to meet her and kissing her on a bridge starting their "relationship." He later convinced her to hack into her jobs data base and download things for him. When she had downloaded the data he had been wanting to a USB drive and gave it to him, he gently caressed her face in what seemed to be genuine love and appreciation for her, only for him to quickly snap her neck a few seconds later. He watched her body fall to the floor and calmly took a sip of wine.
Yuki- He kidnapped her after killing her parents. She was then used as his hostage in an attempt to force Hyun-jun to giving him the USB with the information he needed. Instead Hyun-jun gave him the wrong password causing the device to self-destruct. After a long highway chase and Hyun-jun thinking he had gotten Yuki to safety, Hyun-jun notices Yuki has been shot in the abdomen by one of Vick's bullets and she dies in Hyun-jun's arms.
Top's manger Yang Hyun-sik was CEO of YG Entertainment who used be member of Seo Tae-ji and boys whose ex wife Lee Ji-ah who played Han Jae-hui