Ryoo Seung-ryong
(류승룡; born November 29, 1970) is a South Korean film,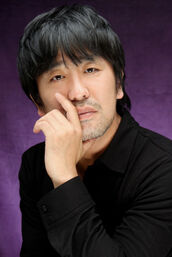 television and stage actor.he made his acting debut at the age of 15 in a stage musical. After his screen debut in 2004's Someone Special, he has since become one of the most versatile and dependable character actors in Korea. A sampling of the various roles he has played over the years: a mentally handicapped father in December 23, the royal adviser Heo Gyun in Masquerade, an officer of the North Korean People's Army in The Front Line, a hard-nosed general of the Qing Dynasty in War of the Arrows, a ladies' man in All About My Wife, a gambling husband who fears his wife in The Quiz Show Scandal, a refined gay man in Personal Taste, a vengeful gangster in Secret and a reporter on the trail of a story in The Recipe.[1]
Ryoo graduated with a Theatre degree from Seoul Institute of the Arts. He currently teaches at Seoul Art College's School of Acting Arts as an adjunct professor.
Filmography
Edit
December 23rd (2012)
Gwanghae: The Man Who Became King (2012) with Lee Byung-hun
All About My Wife (2012)
War of the Arrows (2011)
The Front Line (2011)
Earth Rep Rolling Stars (animated, 2011)
Children... (2011)
Battlefield Heroes (2011)
The Recipe (2010)
The Quiz Show Scandal (2010)
Blades of Blood (2010)
Loving You Today (short film, 2010)
Bestseller (2010)
Secret (2009)
Good Morning President (2009)
Possessed(2009)
My Girlfriend Is An Agent(2009)
My Love (2007)
My 11th Mother (2007)
Hwang Jin-yi (2007)
Beyond the Years (2007)
Cruel Winter Blues (2006)
Righteous Ties(2006)
If You Were Me 2 "Someone Grateful" (short film, 2006)
Good Girl (short film, 2005)
Murder, Take One (2005)
1.3.6 "Has the Shower Ended?" (short film, 2004)
Someone Special (2004)