Lee Jung-woo



Name:

Lee Jung-woo

Korean:

이정우

Age:

29

Occupation :

NST Agent

Organization:

NST

Family:

Lee Cheol-ho (father)

Spouse:

Yoon Hye-in

Debut:

ATHENA:Episode 1

Actor:
Lee Jeong-woo (이정우) is Main protagonist of ATHENA. he portrayed by Jung Woo-sung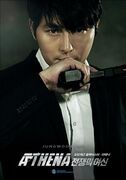 A special agent with South Korean intelligence under the NTS (National Anti-Terror Service), Lee Jeong-woo is said to be as intelligent and adaptable as
Kim Hyun-joon
, but with the suave of James Bond Lee Jeong-woo was once an agent with the National Intelligence Service prior to being transferred to the NTS.
Jung-woo lost his father at very young age
Relationships
Edit

he met Hye-in six years ago and soon he fall in love with her
Jae-hui was Jung-woo's ex lover before he left her for Hye-in now teaming-up to fight aganist Athena
Gi-soo was Jung-woo's best friend and ally
they become closer in fact both their fathers died
Son-Hyuk is his enemy.